Iluminação exterior inteligente e de LED
Com mais de 300 projetos, somos a líder norte-americana em conversões de LED e Controles de Iluminação Inteligente para cidades de pequeno e médio porte.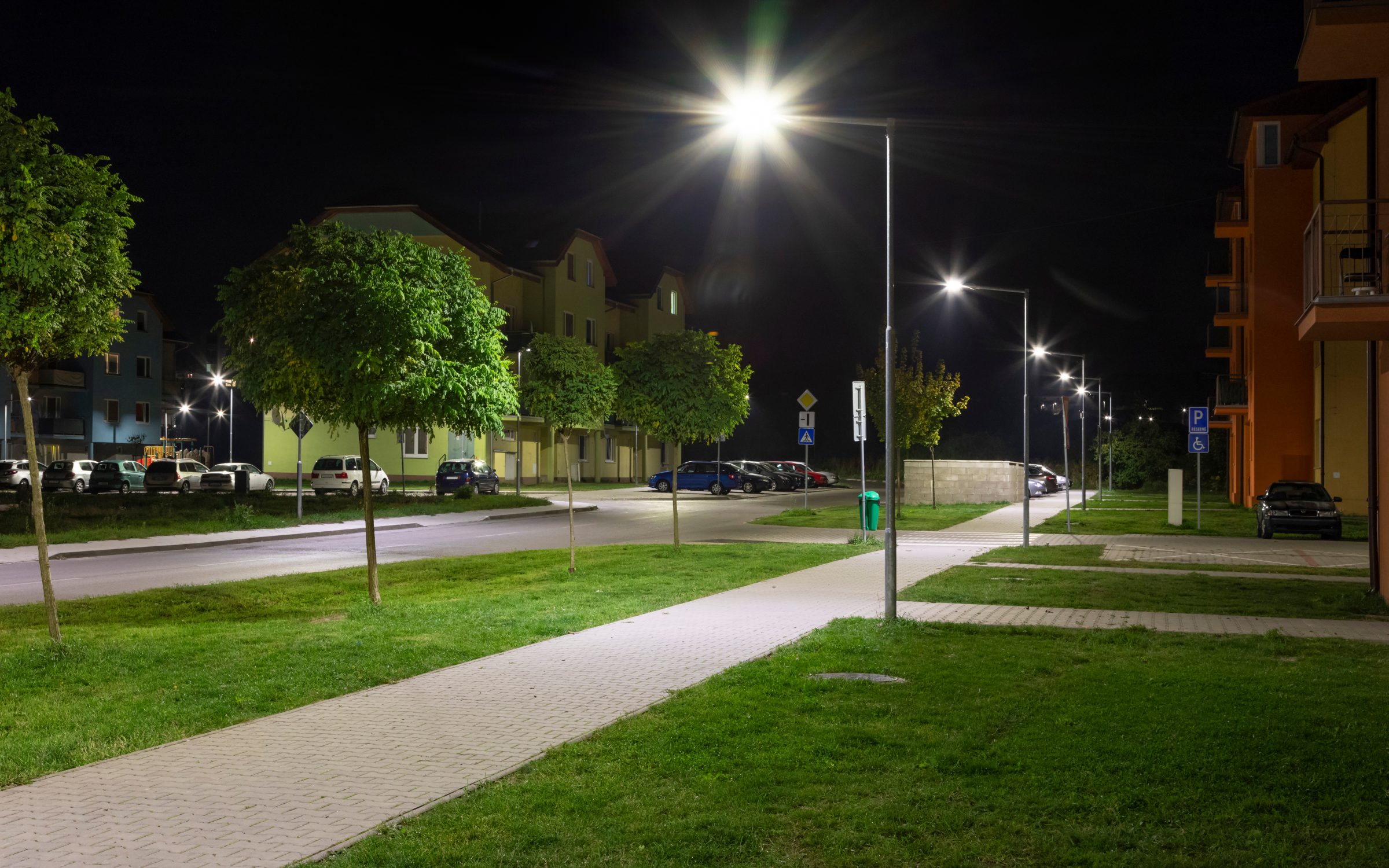 Evolua para a Iluminação Externa de LED
Luzes LED para iluminação pública, estacionamento e exteriores de prédios oferecem benefícios que vão muito além da qualidade e da iluminação consistente. Proporcionam um ambiente seguro e agradável para os cidadãos, além de vantagens significativas.
Nossas conversões de luz externa de LED são econômicas e seus controles de iluminação inteligente podem ser integrados a uma Cidade Inteligente.
Redução de até 70% nos custos de energia

Otimizazão da escala do projeto com financiamento orçamental neutro

Redução de até 90% dos custos de energia com controles inteligentes

Corte de até 80% nos custos de manutenção

Diminuição ou eliminação da poluição luminosa

Redução das emissões de gases de efeito estufa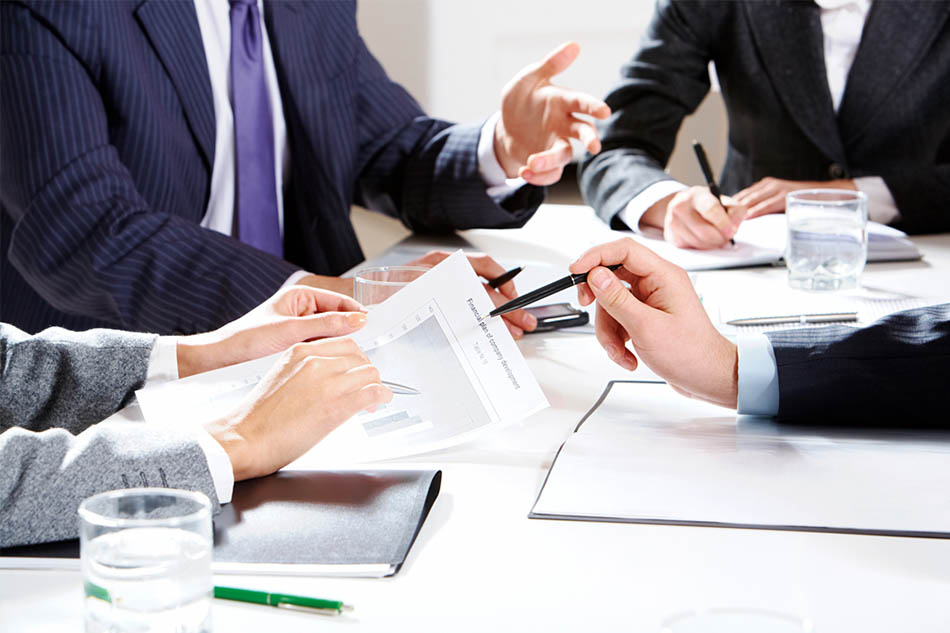 ---
Oferecemos as soluções mais eficientes e econômicas do mercado
Trocar uma lâmpada normal pode ser fácil, mas quando se trata de conversões de LED, a tarefa é complexa e técnica e os resultados são amplamente visíveis. Nossos especialistas têm a experiência necessária para entregar sucesso sempre, da instalação à customização e muito mais. Oferecemos:
Auditoria de iluminação pública e infraestrutura em profundidade com sig e geomática
Few have an accurate inventory of their streetlight network, which is crucial to planning an LED conversion project. Our In-Depth Streetlight & Infrastructure Audit with GIS/Geomatics provides:
Exact GPS location of every streetlight
Existing HID wattage
Site conditions
Asset owner
Plus over a dozen other key parameters
The extra bonus? The result of this streetlight audit is a fully compatible and sharable data set, clearly visualized within a customized app. All data can be collected and monitored in real-time by the client. This app and its contents will ensure you have accurate and up-to-date streetlight asset management capabilities long into the future.
Lux Mapping™
Our Lux Mapping™ system uses a vehicle-mounted lux photometer with a GPS locator to record individual and average lux measurements (the intensity, as perceived by the human eye, of light that hits the surface) and their exact position. We use this information to produce a GIS layer and a series of visualizations that clearly illustrate over- and under-lit roadway segments, allowing for informed, data-based decision-making.
Projeto de iluminação fotométrica abrangente
Good lighting will not be achieved by simply replacing the existing light with its LED equivalent. Proper lighting design is complex, but the payback is worth it: it garners up to 70% in energy efficiencies (vs. 55% without photometric design) and optimizes lighting levels. Our team considers:
Fixture height
Pole spacing
Road width
Sidewalks and setbacks
Roadway classifications
Many other factors that dictate the precise wattage and distribution pattern that each light needs to emit
Our in-house lighting design team follows all applicable roadway lighting design guidelines. They design to maximize energy savings and light lifespan and reduce glare, backlight and light pollution while ensuring the required light to the targeted area.
Iluminação arquitetônica
Properly designed light can dramatically enhance the beauty of a wide range of architectural and artistic sites making your city more alluring to citizens and tourists. From small monuments, such as fountains and sculptures, to entire buildings and historical sites, we use cutting-edge technologies and artistic lighting design to highlight the city's unique architectural heritage while maximizing energy efficiency and obtaining the highest energy savings.  
We offer both permanent and temporary light installations to inject new life and energy into previously undervalued areas, as well as to promote specific events, campaigns, festivities and celebrations. Our Smart Lighting Control systems can be added to incorporate color changes, regulate flow, activate various modes and increase flexibility. 
Gestão de contratos
We use a brand new, well-tested and highly transparent technology platform to obtain, store, and analyze vendor information, helping you make more informed decisions. Along with our agnostic & competitive procurement process, we help ensure you get the best value & least risk.
Our team has extensive experience developing, evaluating, administering and closing out procurement processes for clients of all sizes whether a simple tender, an RFI, RFQ or RFP. In each case, our solutions are tailored to the needs of the light owner—whether a municipality, utility, hospital, university or school. Our experts vet potential installation and service firms and also test and pilot short-listed products.
Gerenciamento de projetos
From design to procurement to commissioning and training, we are tenacious about making everything right. Our project management offers you a single-point-of-contact and includes oversight on all the individual services listed here, as well as a few others that can make the difference between a complete success and a mitigated one. We also offer:
Traffic management plans during installation
Risk management and response plans
Environmental management plans to dispose of any unwanted existing assets
Our team's innovative technical and operational processes ensure we deliver what was promised at the start of a project. We know this is a once-in-20+-year project. We'll ensure it's done right.
Comunidade e distribuição de mídia
Communication with residents and local stakeholders is key to the roll-out of a successful lighting conversion project. We can also help you get positive media coverage for your move to energy- and cost-efficient lighting and becoming Smart. Our community and public relations experts provide everything including:
Public information sessions
Pilot project polling
Press releases
Web and social media content
Print communications
FAQs & real-time digital schedules and maps
Staff support for public and internal meetings
Response to resident complaints
Much more
Our communications strategy aims to increase citizen awareness about the benefits of the project, keeps people informed of the changes in streetscapes and traffic flow, and addresses any citizen concerns with regards to the project.
Gestão de instalação, treinamento e comissionamento
The importance of hiring reliable and experienced installation teams cannot be overstated. Our teams ensure a disciplined and efficient approach. We offer:
Complete shipping and inventory planning
Detailed but flexible route planning
Kick-off and check-ins with all stakeholders
Installation team training
Real-time, remote monitoring
Random inspections by neutral third parties
Full commissioning to ensure complete delivery and integration
Our installation, training and commissioning plans are robust and consider potential hazards.
Financiamento e incentivo/subsídio
The guaranteed energy and maintenance savings generated with an LED & Smart Lighting conversion makes the project budget-neutral. That said, money is required to start any project. Rest assured that when it comes to implementing energy-efficent projects, the cash flows associated with them create unique opportunities to alternative financing structures.
We don't want a lack of capital to hold anyone back. We therefore offer:
Energy Performance Contracts (EPC). An EPC finances 100% of the up-front capital investment with a fixed repayment structure based on the calculated energy and maintenance savings.
Tax-Exempt Lease Purchases (TELP). A TELP is lease-to-own, does not appear as long-term debt and does not require voter approval.
General obligation bonds. Municipalities can repay their debt obligation with the revenue through energy and maintenance savings encurred with the conversion project.
We also help with:
Utility financing negotiation. For municipalities whose streetlights are utility-owed, we can negotiate with the utility to provide alow-cost or market-rate loan that is repaid with project savings.
Finding all municipal, state/province and national incentives and grants applicable to your project. We'll fill out the forms with our tried-and-true methods, optimizing your chances of being awarded the funds.
Manutenção
To maximize your return on investment (ROI), we offer a maintenance service program, exclusive to the municipalities we upgrade. Our maintenance program is easy to adopt, cancellable at any time with no penalties, offers flexible coverage and ensures you a single-point of contact at RealTerm Energy with one of our maintenance specialists.
24/7 online, real-time, map-based Outage Reporting System
Electrical contractor management services
Spare inventory coordination & management
Execution of all your returns for items under warranty
Smart Lighting Controls management (if applicable)
Management of all scheduled and emergency maintenance services
In addition to protecting your investment, our expert maintenance services ensure increased safety, lower CO2 emissions and lower energy costs.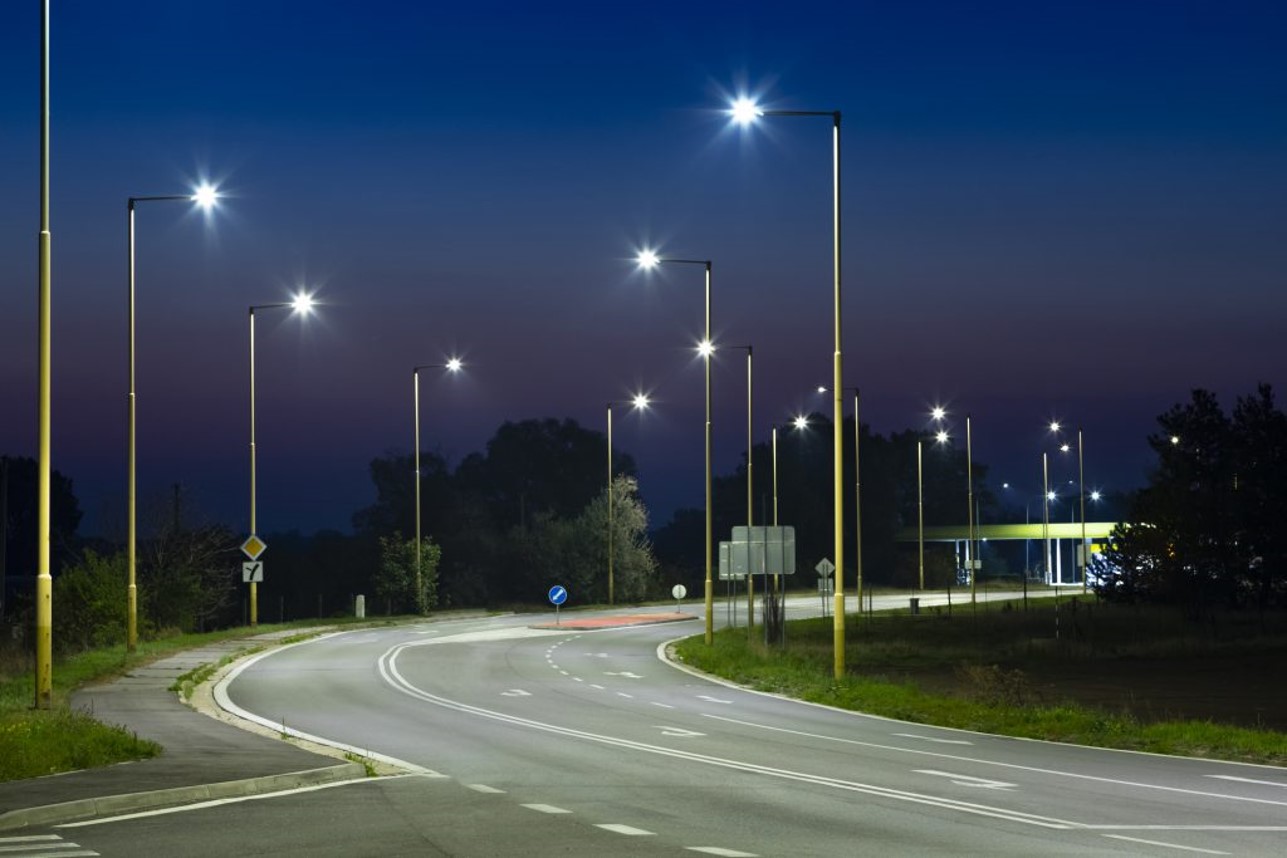 ---
Controles de Iluminação Inteligente
A maioria de nossos clientes desfrutam de uma conversão de iluminação LED para instalar os Controles de Iluminação Inteligente. Os Controles de Iluminação Inteligente oferecem enormes benefícios no presente e no futuro. Eles permitem ajuste de intensidade seletivo e relatórios de ativos em tempo real, além de oferecer maior redução no consumo de energia, entre diversos outros benefícios.