We are grateful to partner with 49 municipalities across the state of Maine to convert their existing streetlights to energy-efficient LEDs. Cities and towns across the state and country are making the switch to LEDs thanks to the various benefits they generate.
Today's LEDs use on average 70% less energy than standard incandescent bulbs and can last up to 25 times longer. This means that converting to LED street lights can result in significant cost savings for local governments over the long term. Additionally, because LEDs use less energy, they produce less heat and don't require as much cooling power – making them better for the environment overall. With the addition of smart controls, municipalities can have increased control over their assets including remote dimming of streetlights as needed and real-time alerts of damaged or malfunctioning streetlights. This will increase efficiency, reduce maintenance, improve public safety and establish the foundation for a smart city.
Let's take a look at some communities RTE has worked with in Maine to see these benefits in action.
Yarmouth, Maine
The Town of Yarmouth, Maine cut their energy consumption by 64% and started saving $87,672 or 81% in annual streetlight costs after a RealTerm Energy turnkey LED streetlight upgrade with smart controls. 
"I am very pleased with the extent that the delivery team went to address issues in a timely fashion. I would say that this project team delivered EXCELLENT service in the execution of the contract. Well done," says Steven Johnson, Town Engineer.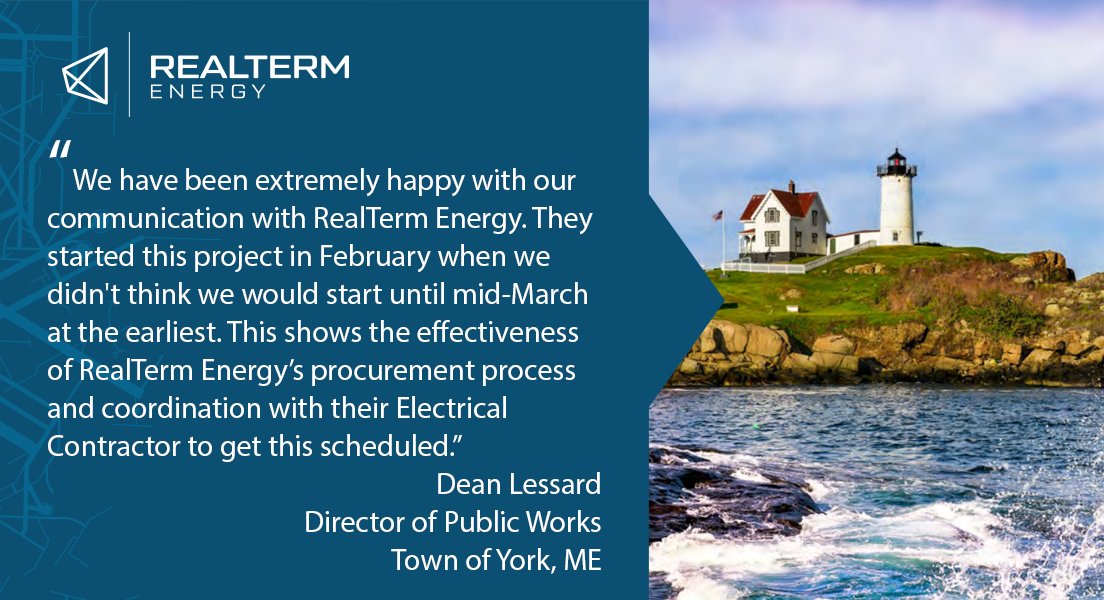 In an effort to reduce its carbon footprint and increase efficiency within its streetlight network, the Town of York chose RTE to undergo a full turnkey LED streetlight upgrade.
RTE's in-house design team performed photometric analyses for each cobra head and decorative fixture. The design plans utilized a 3000K color temperature throughout the Town, as it offers pedestrian comfort without compromising the safety and visual acuity required in higher classified roads and areas of high pedestrian activity. The new fixtures provided improved residential area illumination throughout the Town.
Harpswell, Maine
In alignment with their sustainability plan, we were thrilled to start our work with Harpswell, Maine to preserve its beautiful night sky with the latest LED technology. Harpswell will be the first municipality in Maine to install 2200K streetlights. 
"Less blue light means less scattering, which means less sky glow that could affect not only night sky viewing but also the habitats of countless creatures from insects to amphibians to mammals that depend on darkness for such things as protection from predators, to mating, to hunting for their survival," says Southern Maine Astronomers President Robert Burgess.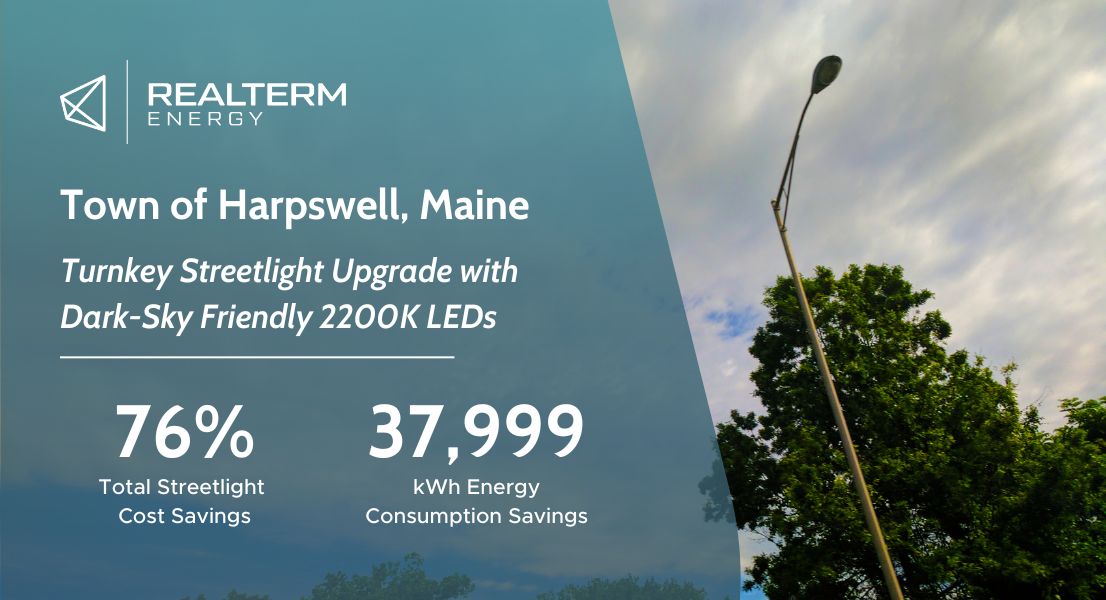 Wondering what an LED streetlight upgrade can do for your community?
Contact us today to discover your options and how we can help you reach ESG goals.